Food pantries receive limited donations of fresh produce. In order to meet this urgent need, the Rondout School Community Garden donates produce from the School Garden to The North Chicago Community Partners Care Closet, Midwest Veteran's Closet and the Lake County Haven. In addition, Rondout is partnering with the Northeast Chicagoland Rotary Passport Club to add donations of produce from local Farmer's Markets and local private gardens. Food insufficiency is a growing problem in our community and our collective efforts help support enriching the nutritional resources for families in need. Donations may be dropped off at the main entrance to the school at the times noted below. Please contact Dr. Jenny Wojcik via email at
jenny.wojcik@rondoutsd72.org
or at 847-362-20221 ext. 601 with questions or to arrange for an alternative drop off time. Donations should be dropped off at Rondout School 28593 North Bradley Road Lake Forest, IL 60045 • Wednesday 7/20/2022 8 a.m. to 11 a.m. • Saturday 7/23/2022 10 a.m. to 12 noon • Monday 7/25/2022 8 a.m.to 11 a.m. • Tuesday 7/26/2022 3:30 to 5:30 p.m. • Wednesday 7/27/2022 8 a.m. to 11 a.m. • Sunday 7/31/2022 2:00-4:00 p.m. • Monday 8/01/2022 8 a.m. to 11 a.m. • Tuesday 8/2/2022 4:00-6:00 p.m. • Wednesday 8/3/2022 8 a.m. to 11 a.m. • Saturday 8/6/2022 11 a.m. to 1 p.m. • Monday 8/8/2022 8 a.m. to 11 a.m. • Tuesday 8/9/2022 8 a.m. to 11 a.m. • Wednesday 8/10/2022 8 a.m. to 11 a.m. • Saturday 8/13/2022 7 a.m. to 9 a.m. • Monday 8/15/2022 7 a.m. to 11 a.m.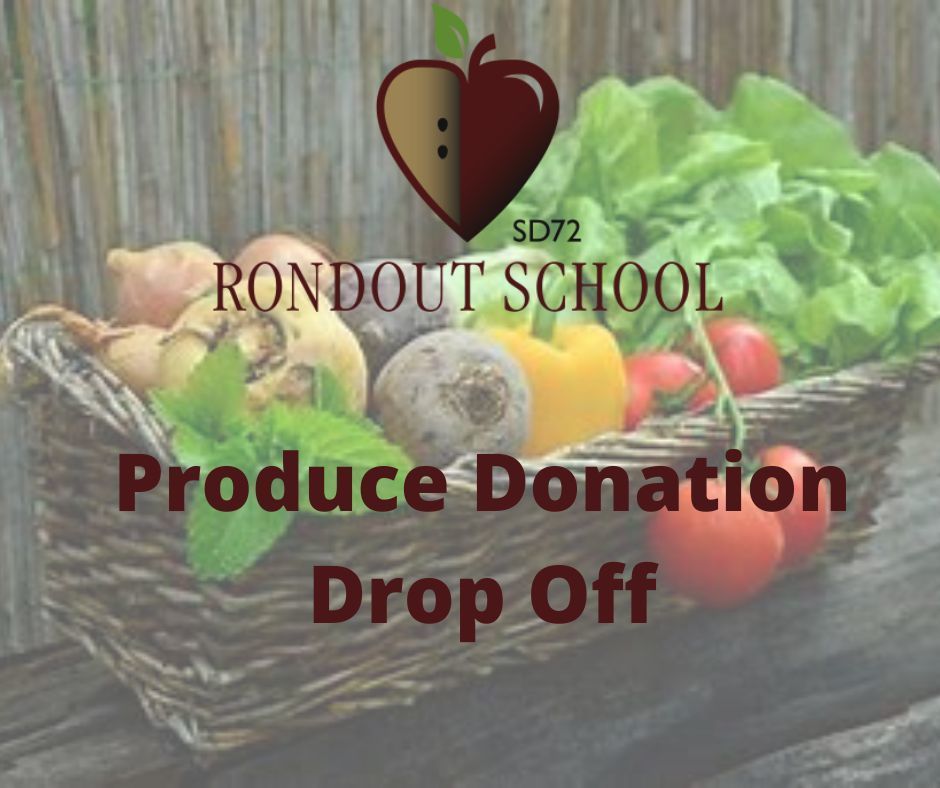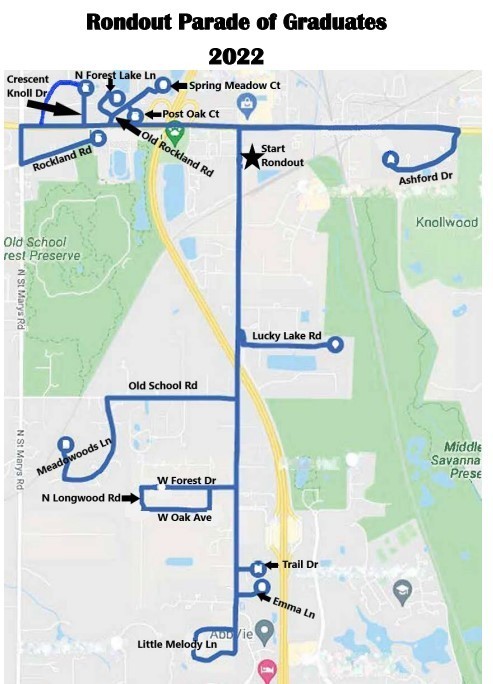 Saturday, May 21, 2022, will be a family planting day from 9 a.m. to 11 a.m. sponsored by the Green Club. Families of Green Club members along with any Rondout families may stop in to plant the vegetable garden. Children must be accompanied by an adult family member. If a family is bringing children for another family, we will need notification in writing since we are not requiring a permission slip to attend.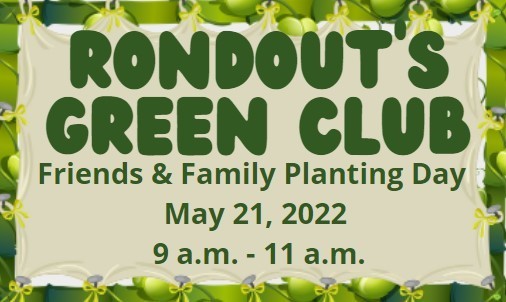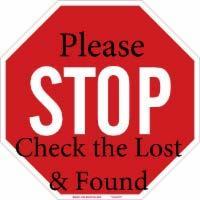 Special Arts Night is Thursday May 5, 2022.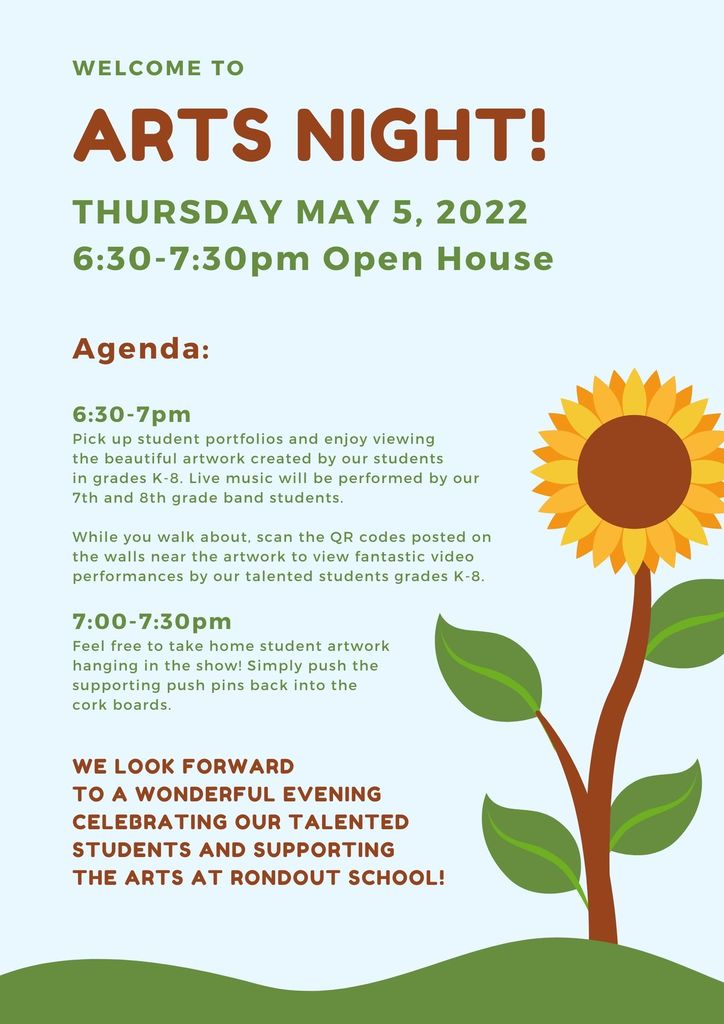 We are excited to announce a new after school activity which focuses on a variety of green space activities. This club is open to students in grades 3rd through 8th. We will be working in the Rondout garden and other green space areas on the school grounds. Students will also be working on activities related to bird life. Click below to view/print the permission form to participate
https://5il.co/18n5o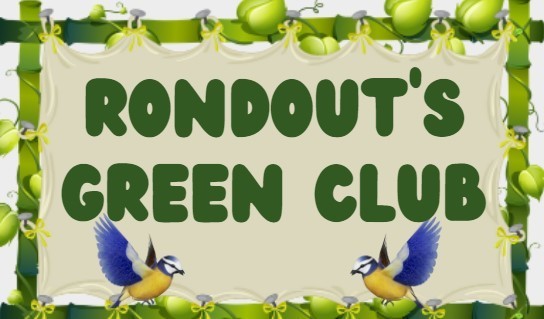 It's "Book Swap" Time! May 19th Join the fun! Come recycle old books and get "new" books to read this summer. For every book you bring, you get to pick a book at the swap table! Click here to view/print the permission form to participate
https://5il.co/18dex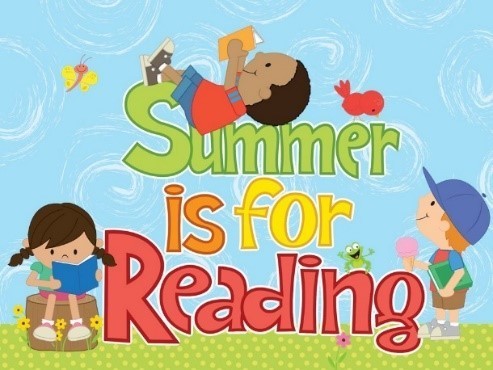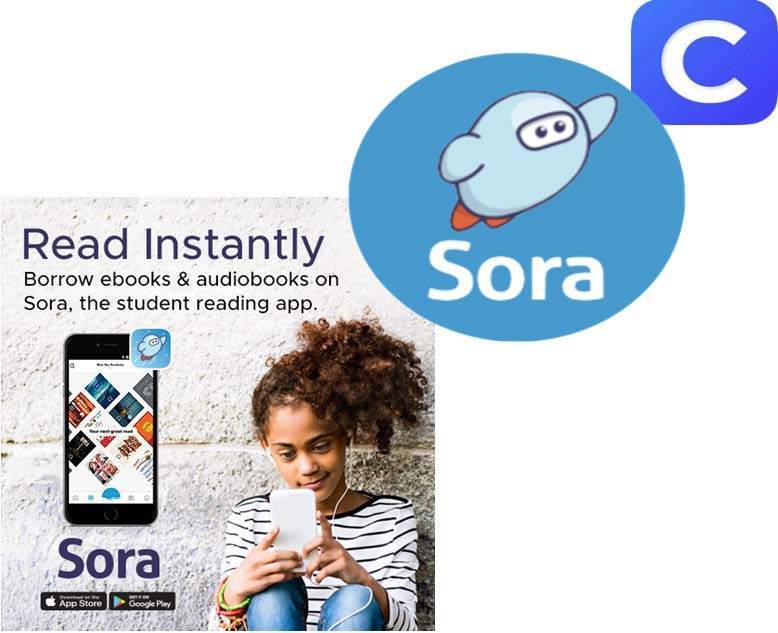 Do you have a pre-schooler ready to start kindergarten next year? Will your child turn 5 before September 1, 2022? Please contact the office to be added to next year's kindergarten class list. We ask that you share this request with neighbors in the district who have pre-schoolers. Kindergarten Orientation and Registration will take place in person on April 12th starting at 6:30 p.m. Questions? Email
jenny.wojcik@rondoutsd72.org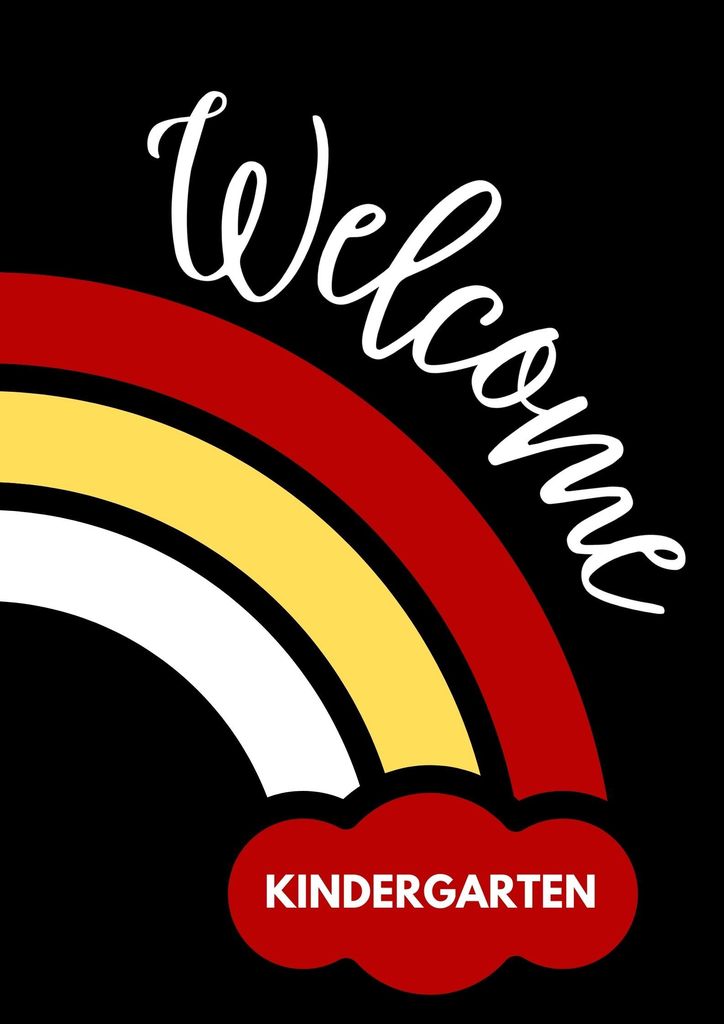 On April 9th, we are sponsoring a Day of Humanitarian Service for our Families. There will be a series of activities set up that you can participate in that day. Activities will be set up from 9 a.m. to 1 p.m. and will include service to support our community here at home as well as those in need impacted by the war in Ukraine. You can stop by for 15 minutes or stay for the entire time. Children must be accompanied by an adult.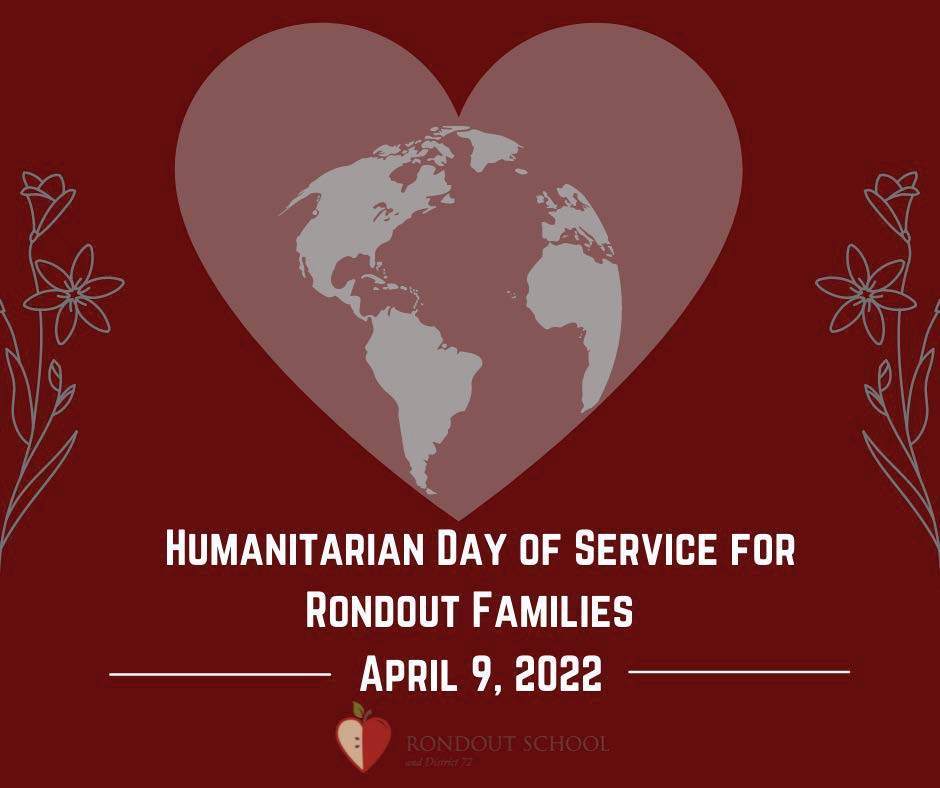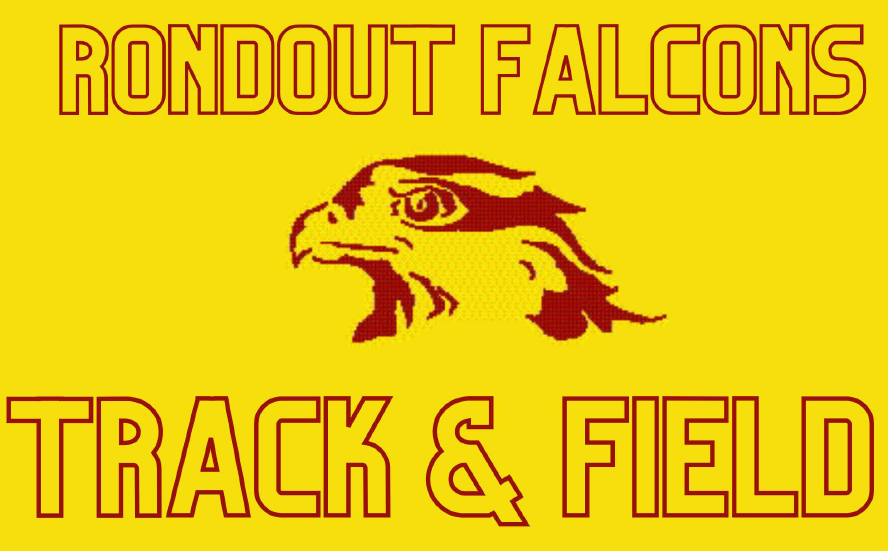 Please note the following changes to this week's lunch menu. Thursday 3/3/2022 hamburgers will be served for lunch and Friday 3/4/2022 baked potatoes will be served for lunch.
https://5il.co/16h4k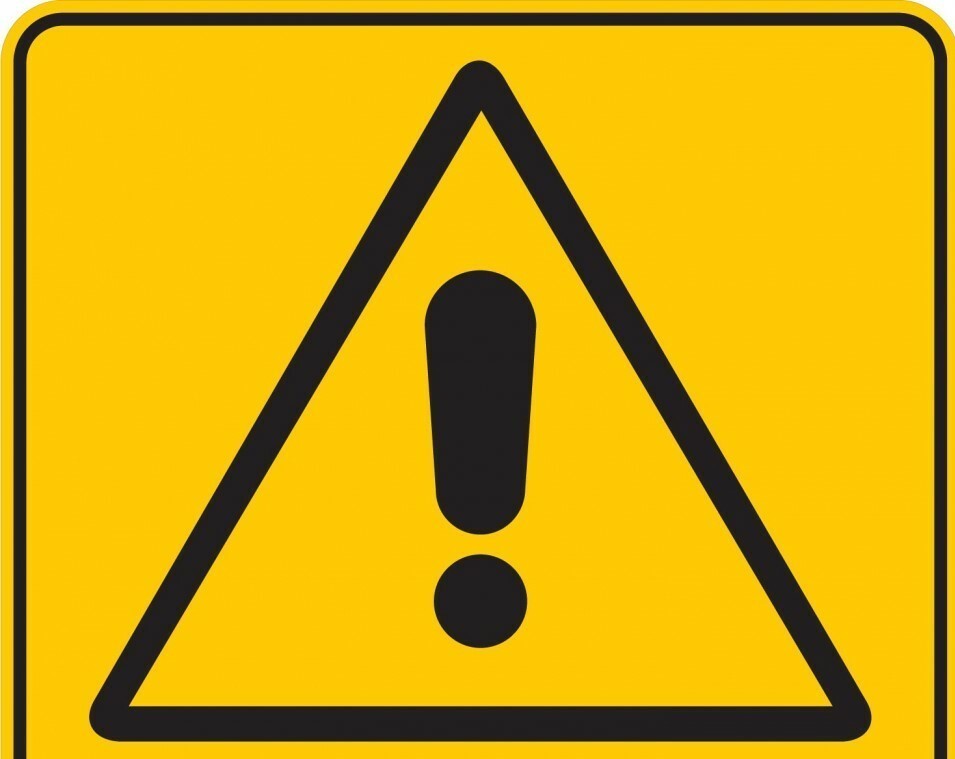 Dear Rondout Families, Late on Friday February 25, 2022, the CDC (Center for Disease Control) announced that it will no longer require people to wear masks on buses or vans operated by public school systems. This will take effect starting with our morning bus routes tomorrow, Monday February 28,2022. We will continue to follow our current bus route procedures and assigned seating. Olson transportation has been notified and has informed their drivers. Masks will continue to be recommended but not required. Each family is asked to discuss their decision regarding wearing masks on the school bus with their children. We also ask everyone to continue to be respectful of the individual choices made regarding masking. Please feel free to reach out with any questions. Thank you for your continued partnership as we navigate the continuously evolving landscape of living with COVID19 in our school and the community. Best regards, Dr. Jenny Wojcik

Want to join us in having a happy and healthy heart!? Last chance to jump on board and join our school's heart hero team! You won't want to miss out on learning 6 ways from our heart heroes on ways to keep your whole heart healthy!! Be sure to share your page through text, email, or social media with family and friends and tell them about the CHALLENGE you took to stay healthy! They'll definitely want to cheer you on!
https://www2.heart.org/site/TR?pg=company&fr_id=6319&company_id=346557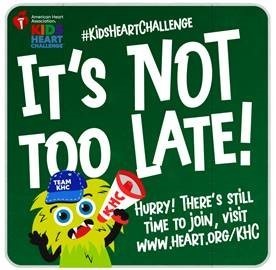 Dear Rondout Families, Faculty and Staff, Late yesterday, an Illinois judge ruled on a lawsuit filed by parents in over 150 school districts in the state that challenged state mandated COVID mitigations. While Rondout was not named in the suit, we are in the process of reviewing the implications of the decision on our district established COVID19 protocols. At this time we will continue to utilize the COVID19 mitigation protocols we have in place to provide the safeguards against COVID19 transmission within our educational setting for students and staff. I will keep you posted on any developments that may impact our district and appreciate your patience as this decision is reviewed. This ruling is complex and legal teams across the state are working on understanding its implications for all of us in Illinois schools. Thank you for your continued support of our students, faculty, and staff. Your compliance with the district mitigations we have in place have allowed us to maintain in-person learning for these past two years with minimal interruptions. Together we have met the challenges of putting student safety and learning first during our COVID19 journey. Those priorities will continue to be at the heart of our practices. Please be assured that we will be providing you with updates as they become available. Sincerely, Dr. Jenny Wojcik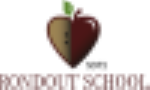 The 3-5 Team is excited to celebrate Valentine's Day on Monday, February 14th! Along with fun surprises throughout the day, students may create or purchase valentines to be distribute to classmates. Please bring valentines to school by Friday, February 11th, to allow enough time for quarantining before passing them out on Monday. Unfortunately, late valentines cannot be accepted. Please make sure that all valentines are non-edible and that there is one for each student in the class. Classroom teachers will be sending out class lists, if needed.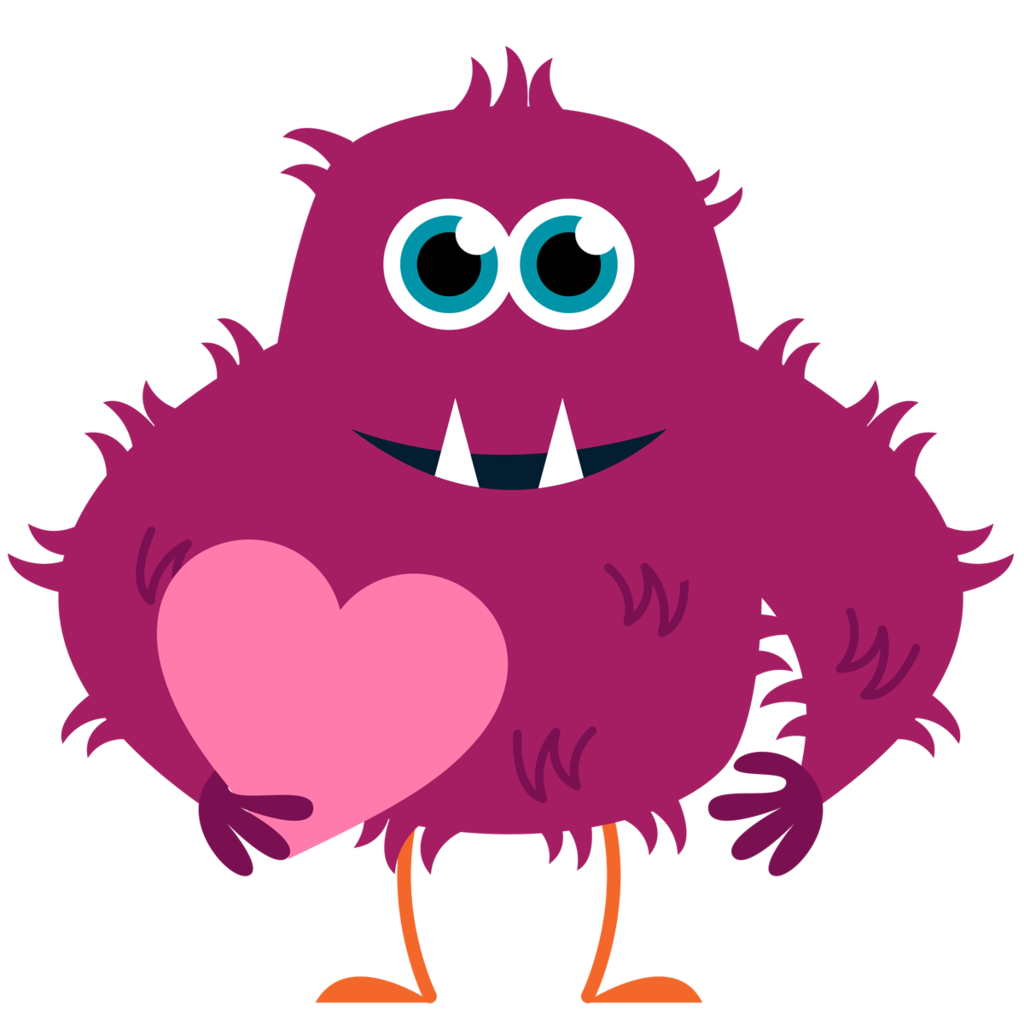 The K-2 students will celebrate Valentine's Day with in class activities on Monday, February 14th. If your child would like to bring in Valentine's Day cards for the class, please make sure they bring enough for all the students in their grade level class. We will have the cards quarantine prior to the Valentine's Day party. Guidelines for the Valentine's Day Cards: • Please do not address friends' names on the cards • NO food or edible treats will be allowed • Please do not lick any cards to seal them – tape or stickers work great! • Put all completed cards into a Ziplock with your child's name on the bag and return to school NO LATER THAN February 11th. • A card must be made for the number children in your child's class We will be decorating a Valentine's Day bag in class to bring home all the Valentine's Day cards. If you have any questions please don't hesitate to reach out. The K-2 Teachers, Ms. Tesar Mrs. Reynolds Mrs. Sweeney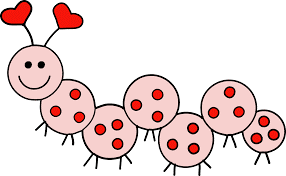 Congratulations to this year's Spelling Bee Champion, Mariana. After 16 rounds, Mariana clinched the title after correctly spelling Technique. Mariana will move on to the next round which will take place virtually on February 16th at 6pm. Let's all wish Mariana luck. Another round of applause for our runner-up, Caitlyn. Caitlyn did an outstanding job and fought until the bitter end! Despite masks and social distancing, all of our spellers persevered to make Rondouts 2022 Spelling Bee a success! Congratulations to everyone! Looking forward to next year!


SAVE THE DATE! MARK YOUR CALENDARS! Kids Heart Challenge is virtually coming to Rondout 2/4/2022 - 2/25/2022! We are SO excited to partner with the American Heart Association to help our students start developing ways to keep their whole hearts healthy for their whole lives and to help spread the mission and the message of the AHA! Want to get a jump start on keeping that heart of yours healthy? Can't wait to celebrate happy, healthy hearts! Click below to sign up for the Voluntary Kids Heart Challenge!
https://www2.heart.org/site/TR?pg=company&fr_id=6319&company_id=346557